Repitch
A downloadable audio effect for Windows, macOS, and Linux
a MIDI-controlled audio harmonizer
MIDI notes control the pitch-shift interval(s)
MIDI velocities control the volume of each note
Download
Click download now to get access to the following files:
macOS 64-bit — Standalone/VST3/AU
Windows 64-bit — Standalone/VST3
Linux 64-bit — Standalone/VST3
Comments
Log in with itch.io to leave a comment.
Its not working on Fl Studio.
this is so cool!! i was able to get it working as a standalone and bring the VST into ableton but i can't seem to get any actual audio out/make it recognize MIDI input inside ableton. any suggestions for what i might be missing? thanks!
edit: nvm, got it figured out! had to route the midi directly to a send track that had the vst on it. thanks for making such a cool tool :)
Hi, I was just trying to install on mac and i can't get the plugin to open in ableton and i get the message "fail to create audio unit"
Thanks for the help in advance can't wait to have a mess around with this
Thanks for giving it a shot! Could you let me know:
which version of Ableton you're using, and
the model of your Mac computer? (the new M1 chips are not yet supported, unfortunately)
Hi, I'm just wondering what license your source is under please?

All of my code is unlicensed unless otherwise indicated. But if you do use it to make money, please consider supporting me on GitHub Sponsors!
hey now this thing is just crazy genius - coupled with a tuning plugin it's super reminiscent of Bon Iver's Messina 'system' - even has the octave-unpredictability! Just wondering if there would be any way to somehow make the constant root note silent unless its key is played?
Thanks, glad you like it! The root note should be silent unless the MIDI note corresponding to the Pitch setting is played. Perhaps you have monitoring on in your DAW?
heya! i can't get the windows vst3 to work... in the contents there is a folder for MacOS, is it possibly the wrong download ?
Thanks for pointing that out – try putting the vst3 in C:\Program Files (x86)\Common Files\VST3​\
just tried, still doesn't work unfortunately ):
i am using FL Studio 20 for what it's worth. the files contained in the download don't appear to be registered as compatible with Windows. are they possibly Mac files?
Hmmm…
The .vst3 file should work in both Mac- and Windows-based hosts.
Try this:
In FL Studio, open the Plugin Manager (Add → Other → Manage Plugins). Ensure that repitch.vst3 is in one of the "Plugin search paths" listed. Turn ON the item under "Scan options" labeled "Rescan plugins with errors" and then click the "Find more plugins" button on the top left.
It seems like Repitch fails to load on the first scan, but then passes on rescan. When I have the time I'll fix this bug, but for now this workaround should get it up and running.
ah, i tried these steps and still no luck... i noticed that there is no file with the extension ".vst3" in the repitch folder... under the folder "MacOS" there is a file with no extension called "Repitch" with no filetype recognized by Windows. i tried adding ".vst3" to the end of this file and rescanning, which got FL Studio to recognize the plugin, but the plugin fails to run and gives this error message: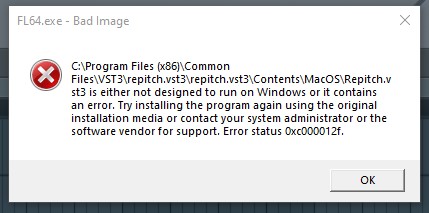 repitch.vst3 is the folder which contains the "Contents" folder (it's technically a file bundle, which is why it has an extension).
In your screenshot, it looks like repitch.vst3 is placed one directory too deep. It should read C:\Program Files (x86)\Common Files\VST3\repitch.vst3\Contents...
Try moving repitch.vst3 up a directory, and removing the .vst3 extension you added to the file in the Contents/MacOS folder.